---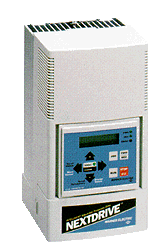 Powerful, Reliable Performance
The NEXTDRIVE drives are capable of delivering 200% of full load torque for up to 3 seconds and 150% of full load for a full minute. This robust power means the capability to start heavy loads.
The NEXTDRIVE drives offer a wide range of speed control (up to 100:1 turn-down ratio) for precise control in a broad variety of applications.
With standard power dip ride-through, the NEXTDRIVE can even operate reliably during brown-outs for maximum productivity.
---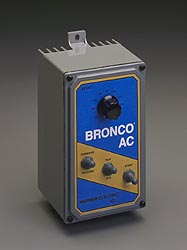 Warner Electric's Motors and Controls Division has introduced its BRONCO® AC Motor Controller, an industrially-hardened AC adjustable frequency drive for control of AC induction or synchronous motors rated at 1/8 through 1 HP.
This rugged volts-per-hertz drive is ideally suited for conveyors, mixers, pumps, fans and general machinery. Simple potentiometer control makes it easy to set user defined adjustments such as acceleration, deceleration, forward/reverse and jog. The drive has a 100 percent continuous duty output current rating, and a 150 percent rating for 30 seconds. It is immune to most EMI/RFI noise sources found on industrial AC incoming power lines.
---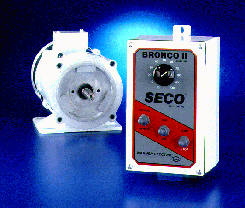 Compact, rugged, and reliable, the Bronco line offers many great features:
Speed Regulation +/- 0.5-1%
Dual voltage input(115/230 VAC)
Output 90 or 180 VDC
1/4 to 2 HP.
Circuit Protection
Torque Control
Local or remote operator control
Open chassis unit availability
Field Progammable jumpers
AC line Protection Fuse
Full Wave power conversion circuit with 2 SCR's and # diodes
IR compensation adjustment
Control relay with 3-wire start/stop circuit
Jog at potentiometer speed
Field supply for shunt wound field motors
Totally enclosed, cast aluminum enclosure meets NEMA4,
NEMA 12 and NEMA 4X standards
Maximum and Minimun speed adjustments
Adjustable acceleration(1 to 5 seconds)
---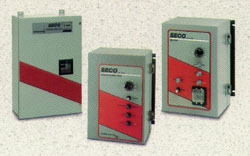 Mentor M4000
M4000 is a fully digital, programmable microprocessor based DC drive.
1-500 HP, 50/60 Hz, 3 phase, 230/460V
Regenerative no regenerative
Center wind tension control
Torque mode operation
Taper and trim functions
Digital and speed loops
Field weakening-constant horsepower
---

Back to Variable Speed Drives

Request Catalog

E-mail PTS

Link to Manufacturer