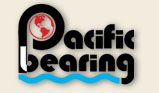 Pacific Bearing Company was established in 1981 to provide custom plane bearing solutions. In 1985 linear ball bearing users came to Pacific and asked for a linear bearing that simply would not fail. Dirt, vibration, shock loading, water washdowns, etc. were causing premature failure of linear ball bearings, often within days.
After testing many material combinations, we chose the Simplicity design as the best solution.
Since 1985, Pacific Bearing sales have grown at an annual rate of 20% to 35%. The product line has grown from standard inch size to include both European and Japanese metric standards. This type of exciting growth is expected well into the next century!
---

Back to Linear

Request Catalog

E-mail PTS

Link to Manufacturer