---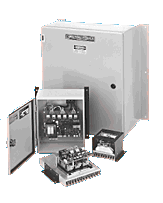 A Soft Start Motor Control is designed to be used in applications where an electro-mechanical starter or contactor already exists. Simply wire the soft start control between the motor starter and the motor. The soft start control will automatically ramp the voltage to the motor. The motor starter is used to initiate the start/stop and to provide thermal overload protection to the motor.
---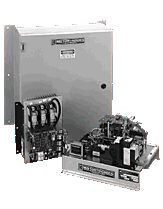 Electronic Brakes stop a load by injecting a controlled amount of DC current in a three phase AC motor. Motortronic's brakes eliminate costly and potentially dangerous "coast-to-stop" times and improves overall equipment productivity. Braking friction and brake lining wear ceases to be a problem. Available as a "stand alone" brake that can be interlocked with a magnetic contactor or as a combination soft start/brake or starter/brake package. Use the EB2 Series to stop your load safely and then initiate a mechanical brake for holding (the EB2 is not to be used as a holding brake). Whatever the application requirement, Motortronics has the electronic braking solution for you.
---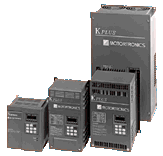 The Motortronics line of AC Inverters offer all the advantages of soft starting plus variable speed control of AC motors for optimum system performance.
By controlling the speed of your AC motor, process improvements including increased throughput, improved efficiency and reduced maintenance can be achieved. When properly installed, operated and maintained, AC inverters can provide a lifetime of service.
Simple to install yet versatile in the application, Motortronics AC inverters offer digital features at analog prices. Typical applications include pumps, fans, conveyors or any three-phase AC motor application where simple speed control is needed. All Motortronics AC inverters are available from stock in standard NEMA 1 enclosures or can be packaged in NEMA 4/12 enclosures with circuit breakers, disconnect switches or as two or three contactor HVAC bypass package. Whatever your application, Motortronics can provide the solution to your AC motor speed control requirements.
---

Back to Variable Speed Drives

Request Catalog

E-mail PTS

Link to Manufacturer