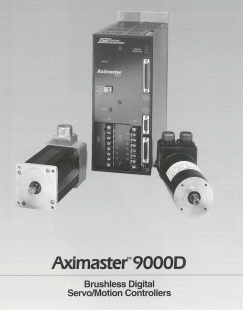 ---
The Aximaster 9000D from Cleveland Machine Controls is an easy to use and versatile controller that can be quickly configured to provide a variety of single and multi-axis control solutions over a broad power range. With Aximaster 9000D, you can choose any one of these full-featured operating modes:
Digital Servo Control
Aximaster 9000D's digital current and velocity loops eliminate troublesome potentiometers by using auto-drift compensation and auto-tuning functions. Parameters can be easily set through the controller's RS-232 port with any IBM compatible computer.
Stepper Replacement
This mode increases the accuracy of an existing stepper application. Integral closed loop pulse follower software can be configured to follow CW/CCW pulse or pulse/direction inputs without changing the existing indexer. It provides user selectable resolution up to 25,000 steps per revolution.
Full Function Motor Controller
Aximaster 9000D can store 167 digitally selectable programs in non-volatile memory. Plus, you can:
Define 8 parallel software tasks
Assign custom variables
Conduct conditional, arithmetic and logical operations
Define units for position, velocity and acceleratin
Design custom operator and machine interfaces
---