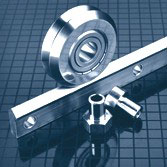 The integration of Dual-Vee Guide Wheel Components is an industry proven, economical method of obtaining precision linear motion for all types of mechanical applications. The Dual-Vee Components consist of wheels, tracks and bushings.
Technical Information
The Dual-Vee Components use the proven "Vee Slide" principle and are available in four sizes. The four sizes provide a wide load and speed range.
The wheels are precision ground, double row angular contact ball bearings available in 52100 carbon steel hardened to 60-62 Rockwell C, or 440C stainless steel hardened to 58-60 Rockwell C. The track is available in 1045 carbon steel that is induction hardened to a minimum of 58 Rockwell C, or 420 stainless steel that is induction hardened to a minimum of 40 Rockwell C. The bushings are available in either plated steel or 303 stainless. Eccentric bushings are used opposite concentric bushings to provide a simple and effective means of adjusting free play of the system.
Dual-Vee components perform extremely well in contaminated environments since the wheel has a self cleaning action on the track.
---

Back to Linear

Request Catalog

E-mail PTS

Link to Manufacturer